Joe Cabral, Former Chair and CEO of Chatsworth Products, Inc.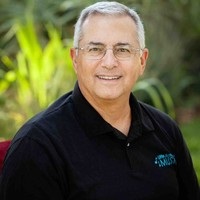 Joe Cabral has decades of experience as a successful executive leading complex organizational change. He is former CEO and Chair of Chatsworth Products, Inc., the IT infrastructure solutions company that he founded by leading the divestiture of a subsidiary operation from a larger corporation using a leveraged employee stock ownership plan (ESOP) to finance the buyout.
During CPI's first 10 years, under Joe Cabral's leadership, annual revenue of the 100% employee-owned company grew 30% percent annually from $9 million to over $130 million and stock value grew from $4 per share to $121 per share. Chatsworth Products has been recognized as "Employee-Owned Company of the Year" by Business Ethics Magazine and Joe was honored with the "Homer Dickerson Business Ethics" award.
Previously he had served as a staff auditor at Arthur Andersen & Company, and as division controller for Fortune 500 Harris Corporation's Dracon Division, then Strategic Business Unit Manager for the Dracon Chatsworth Operation–which later divested from the corporation to become Chatsworth Products, Inc.
Joe Cabral has chaired the boards of The ESOP Association and the Employee Ownership Foundation and served on the board of the NCB (National Cooperative Bank), and several ESOP companies. He received the "Life Service Award" from The ESOP Association and was selected as a finalist for Entrepreneur of the Year in the Los Angeles region.
Today, Joe Cabral serves on the boards of LeFiell Manufacturing Company (an ESOP company) and several nonprofits.
Among his many philanthropic activities he actively supports several local community health research and academic institutions, including the Institute for the Study of Employee Ownership and Profit Sharing, where he endowed the "Joseph Cabral Distinguished Scholar and Fellow" award for emerging scholars to encourage the study of broad-based employee ownership in the United States.
With his decades of successful leadership in a wide range of roles, he speaks powerfully and knowledgeably about a wide range of topics.
Speaking Topics Include:

Financing buyouts using ESOPs
Using a leveraged ESOP to divest an operation from a public corporation
Leading organizational change for performance
Leading during periods of downturn
Business strategy and employee ownership
Business ethics
Human resources
Managing for performance
Leading organizational change
Courses Include:
Finance
Strategy
Entrepreneurship
Human Resources Management
Organizational behavior
To request a guest speaker, complete this form.