Anne-Claire Broughton, Founder and Board member of North Carolina Employee Ownership Center; Principal of Broughton Consulting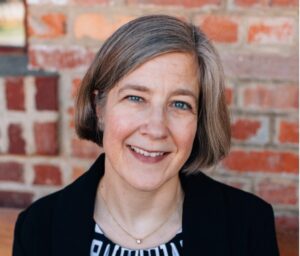 Anne-Claire Broughton is Principal of Broughton Consulting, LLC, a certified B Corp, which helps organizations engage employees at all levels for business success through open book management, employee ownership, and healthy organizational cultures. Broughton helps business owners plan for succession via employee ownership (ESOPs, worker cooperatives, and Employee Ownership Trusts), and she is also a contract open book management coach with The Great Game of Business, where she helps educate employees at all levels about business financials.
In addition, Broughton is the Founder and a Board Member of the new North Carolina Employee Ownership Center. She previously spent more than 13 years advising early stage business as Co-Founder and Senior Director of SJF Institute (a business accelerator affiliated with SJF Ventures and Investors' Circle).
In 2019, The North Carolina Business Council (NCBC) presented Principal Anne-Claire Broughton the 2019 Visionary Leadership award in honor of her commitment to sustainable business practices. Also in 2019 Broughton Consulting was honored as one of B Corp's Best for the World for customers for its work improving the lives of frontline workers through employee ownership and open book management.
Speaking Topics Include 
Employee ownership via ESOPs
Worker Cooperatives
Employee Ownership Trust
Open Book Management
Participatory Management
Employee Engagement
B Corporations
The CLEO database has a number of articles by Anne-Claire Broughton.
To request a guest speaker, complete this form.